For the overwhelming majority of my working life, I have been a lunch buyer, which can really start to add up when your lunch options are downtown restaurants and eateries. What? Draeger's raised their prices on their deli sandwiches by almost 20%? And I paid $18 for a salad that I assembled at their salad bar? And Mint is telling me that I'm consistently exceeding my restaurant budget each month? Clearly, I need to start making and bringing in my own lunch from home.
It's no secret that our team works hard and lunches hard. As inspired by my fellow team mates and as part of my personal goals, I wanted to start cooking more often, knowing the exact ingredients that go into the recipe, incorporating more substantial servings of vegetable (other than the greens of a salad), and in turn, also bring the leftovers to lunch the next day at work. To my aide, Grady sent me an invite to a meal kit delivery service called "Martha & Marley Spoon" and thus started my endeavor.
I want to make clear that this is not necessarily a review of the meal kit delivery service. There are probably a hundred of these types of services out there that I haven't tried. This is more of a personal journey that I'd like to share. It's about my experiences and thought process as someone who doesn't cook often but is making it a goal to get motivated and change that.
Unprepared and raw ingredients for the sweet potato and sausage soup with pasta and kale.
I was super excited to receive the recipe box at my front door when I came home on Thursday and I dove right into unpacking all of the ingredients. By doing a quick scan, the ingredients are looking high quality and fresh. They gave me so much kale! To be honest, I don't really like raw kale (and I think there's truth to the rumor that it was used as a decorative item at the Pizza Hut Salad Bar before it became a health fad), but I'm optimistic about how it will turn out and taste in this recipe.
These are the recipe cards that come with the ingredients
The recipe card tells me this will take 30 minutes from start to finish and I'm pretty skeptical. I wash the produce, peel the sweet potatoes and chop up the onion, garlic, and kale. Since my knife skills aren't that quick and efficient, and I'm using a slightly smaller Santoku knife, it took me about 25 minutes to do this prep work.
This took me longer to chop and prepare than I would like to admit.
Everything else from there on out was fairly on schedule. Sautéing the onions and garlic got the aromatic smell all over the clothes and apron I was wearing while cooking and stayed with me well into the next day, even after showering. And the smell seeped into my bedroom. (Learning moment: I have to keep door to bedroom closed when cooking!)
Sautéing the aromatics!
I put in the spicy sausage and broke it apart in the pot while it cooked and browned. I tossed in all of the sweet potatoes and added 20% more water than the recipe called for (it looked like it needed it) and threw in the pasta. I found it interesting that they gave me a packet of chicken broth concentrate instead of chicken broth, but upon a taste test, I came to the conclusion that it gave the output a tastier and savorier flavor than regular chicken broth could give. It smelled fragrantly delicious as it simmered and the last step was to throw in the chopped kale. I put ALL of it in. There was so much of it that I thought it would crowd the pot, but as soon as it wilted from the boiling liquid, it looked more incorporated with the rest of the soup, adding a nice bold green color to it.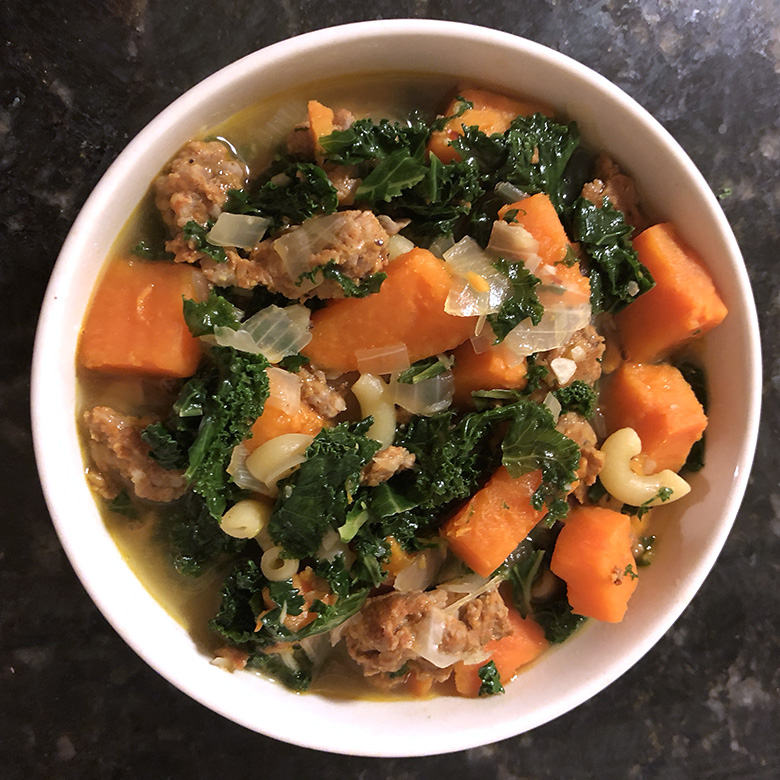 The finished product! Sweet potato and sausage soup with pasta and kale.
I ladled the hearty soup into a bowl and tasted this concoction. It actually tasted pretty good and the wilted kale was a very welcome addition to the soup because it was easy to eat and was basically a vessel for flavor. I deemed this recipe a success, and it made a lot! It was supposed to be portioned for 2 people but it could have easily fed 3. From start to finish, it took about an hour to complete, which confirmed my original skepticism, but like I said, my knife skills are a little slow. With more practice, they will improve and get faster over time. I proudly brought my soup leftovers to work the next day and it still held up well the second day, reheated in the office microwave.
Unprepared and raw ingredients for the meatballs agrodolce with Brussels sprouts and polenta.
On Sunday evening, I made the meatball agrodolce with Brussels sprouts and polenta. This recipe card also said it would take 30 minutes but this also ended up taking me about an hour. There was less produce chopping in this recipe as it was just cutting Brussels sprouts in half and mincing a shallot, but the time suck was making and cooking the meatballs. I love roasted Brussels sprouts, so I was fairly excited for those. This recipe also included a beef broth concentrate, which I found was an excellent savory addition to the agrodolce sauce. The Brussels sprouts were a no-brainer as it was just roasting for 15 minutes.
Meatball ingredients prior to mixing
I dumped all the ingredients together for the meatballs (ground beef, egg, panko, dried currants, shallot, salt, pepper), mixed them together with my hands and formed them into meatballs, rolled them in flour, then pan fried them.
Meatballs on the pan before turning on the heat.
Then, I added a mix of warm water, beef broth concentrate, sugar, and balsamic vinegar to make the agrodolce sauce into the pan with the meatballs and shallots and let it simmer and reduce to a sweet and savory glaze. I made the polenta by boiling water and throwing the polenta in and stirring it with a spoon. My mistake was throwing it all in at once and not using a whisk as it got super lumpy, so I had to smooth it out as best as I could in the pot with the backside of the spoon (another learning moment for me).
Almost done! Just need to finish reducing the sauce for the meatballs.
I find polenta to just be fairly tasteless by itself, but it's an excellent vessel for sauce and other savory and meaty toppings. At the end of this experience, I had a successful dinner that was quite tasty and I had two extra servings for lunch and dinner the next day as well. And the next day, I proudly brought my meatball agrodolce leftovers to the office and regaled the team with my meal-kit prep experiences.
Finished product! Meatballs agrodolce with Brussels sprouts and polenta.
This experience not only taught me new recipes that are both tasty and healthy, but it also taught me how to time things properly in order of how fast or slow certain ingredients need to cook, and showed me the proper ingredient proportions.
Next I'll make the pork chops recipe with apple, and turnip gratin. It's going to require me to chop 4 different produce items, so it'll be more practice with the knife skills.
I might not cook every day, but if I can cook at least 2 times a week and bring in the leftovers for lunch the next day, I'll consider my goal achieved. We'll see how well I do in the coming months. Wish me luck!